Now Available as a Prefabricated Kit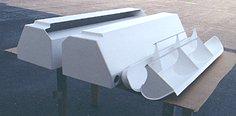 Dorade Box and Hull Air Intake for Bertram 31, hull #161

Inducting Engine Air From Hull Exterior



Engine air intakes were designed into the hull for four reasons:
Optimum air volume
Noise reduction
Cleaner air
Visual appeal
Diagram of of the dorade box shows how the hull air intakes work.
The primary deflector on the left serves to redirect water spray and the secondary deflector stops any water that has gotten past the first, allowing it to be dropped into the bottom of the box and drained back overboard. All air combined openings were calculated to be at an optimal 150 sq inches. Diesel engines require 0.5 sq inches of free air per HP. Our finished intakes calculated out at 145 sq inches.
The three componet parts ready to be installed.
The hull openings were cut in prior to designing the dorade box components. Here the primary deflector is installed on the port side.
Not shown is the installation of the secondary deflector which runs the length of the box, and is attached to the under side of the gunnel. The box is then installed and a drain tube of 1 inch PVC pipe is fitted at the aft end and directed overboard through the hull just above the accent stripe.
The finished engine space.