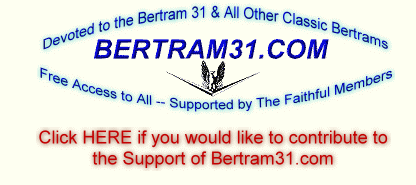 First, let me say a most sincere "Thank You!" to Uncle Vic for once again initiating a UV Support Fund, and to all of you, who once again have shown your financial support of Bertram31.com website.

Words can not begin to convey the value of the friendships that I have made through this website. When I first built the site and invited a few of the soon to be "Faithful" over, little did I realize that I had built a doorway and opened it to what would become a worldwide fellowship. But, the true success of the site has been largely due to the caliber of all of you and of course the common bond via the Bertram 31.

Your generosity and willingness to help support Bertram31.com is greatly appreciated!


---
Posted By: Vic Roy royvictor@cox.net
Date: Sunday, 26 September 2004, at 6:28 p.m.

Here we go, Faithful. Just to remind everyone, this site is free, open to all, and probably has the most pure expert advice, not just on the Bertrams, but on boating things in general, to be found on the net. The number of hits proves that. The depth and range of knowledge here is unsurpassed anywhere. And in my view, keeping it free and open to all goes a long way in attracting people who chip in expert advice that would never come aboard if it was a pay site. This site has a courtesy level that is enforced by the Faithful, and works. No unkind words are tolerated, period. Poking fun, joking, sure, but no harsh words are permitted here. The Faithful are way above that.

Now, how is this site financed? It is owned by Capt. Patrick, lock, stock and barrel. He has some site sponsors (hey, my law firm is one, wanna sue someone for stealing your bank?) but most of the financial support comes from viewers like you. Hummmm, sounds like Public Broadcasting, so let me modify that: Most of the funding comes from the Faithful.

So who are "The Faithful"?

In my view, The Faithful are the people who love Bertram boats, from the first one ever popped out of a mold to the one that's about to launch today. Over the some 4 or 5 years of Patrick putting us in this common sandbox, an awful lot of us have become very close friends. We turn out to all be pretty much the same, and have formed a tight bond. We are all different, but all the same. We now, unlike many people that met on the net (say it ain't so, UV, say it ain't so ya'll met on the INTERNET?) we see each other a good bit, have events where we have a big time, and just enjoy being with each other.

OK, enough of the tear-jerking, time to raise some money to keep our Sandbox thriving. Many of us send money to Patrick on a regular basis, some now and then. This fundraiser is a special event, to celebrate our Noble Leader's 60th birthday. I ask each and every one of you to send a check to Ole Fart (address is on the top of the page) for $60 with a notation on the bottom of your check that says, "Happy Birthday, Ole Fart".

Many of us can, and will send more, because what he has created is priceless for the fiendships we have formed here, not just casual friendships, but friends for life.

So the minimum is $60, and let's get after it. Write them checks, and we will have an "Amen" corner under this post - all you have to post is "I'm in" and we need to fill this server up with "I'm in's"

It is my humble pleasure to know you guys, and let's step up to the plate to keep B31.com free and open.

your friend,

UV
---
Special Thanks to all who continue to show your support:
Fall 2004
Greg Acton
Jim Bailey
Bill Beardslee
Jim Bourg
Brick Brown
Ed Chadrow
David Clutter
Mac Creech
Chiles Cridlin
Rodney Cocuzza
Ed Curry
Bill Cusick
John & Steve Davis
Tommy Drake
Dick Dean
Scott Deskins
Trey Dibrell
Bruce Doan
John Dunker
Richard, "Doc", Ely
Lynn Fasnacht
Ernest Fielder
Bob Fioresi
Wayne Flutz

Andre Fourrier
Moonie Fourrier
John Formica
Terry Frank
Bill Fuller
Eddy Gallegos
Jerry Gomber
Fred Haas
Tom Hodgson
Holtz Boatworks
Tom Jacob
Charlie Johnson
Troy Johnson
Garry Jordan
Gary Kahn
Walter Kaprielian
John Kelly
Mike Kennedy
Dave Kosh
Bob Lico
Tom Marata
Craig McCarville
Jack McDonnell
Dan McKinney

Dave Mechem
Tony Meola
Mitch Mills
Alex Moore
Patrick Nutt
Mike Olhstein
Russ Pagels
Chris Pague
Joe Pica
Robert Pitt
Doug Quigley
David Recca
Richard Reischer
Dave Roberts
Vic Roy
Kevin Saer
Rawleigh Simmons
Brian Smith
Ian Upton
Chris Walter
Tom Ward
Kenneth Wlodarczyk
Harry Woods
Joe Zaccarelli
A Very Special Thank You goes to Tom Jacob's wife, Rebecca, for the painting she did from one of the photos taken at the 2004 North Carolina Rendezvous!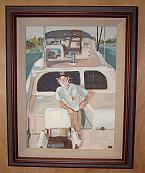 A Very Special Thank You goes to Walt Kaprielian for sending his great The Captain Cook Book!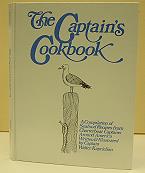 ---
As always...

Best regards,





Capt Patrick McCrary
bertram31@bertram31.com
3640 Investment Ln. #15
West Palm Beach, FL 33404
561.848.3366