Happy Holidays and a Happy New Year
E Cards by Camilla Eriksson
First, let me say a most sincere "Thank You!" to Uncle Vic for initiating the UV Christmas Challenge 2003 and to all of you who met the challenge.

Words can not begin to convey the value of the friendships that I have made through this website. When I first built the site and invited a few of the soon to be "Faithful&quote over, little did I realize that I had built a doorway and opened it to what would become a worldwide fellowship. But, the true success of the site has been largely due to the caliber of all of you and of course the common bond via the Bertram 31.

Special Thanks to:
Roland Arellano
Thomas Bourg
Dave Clutter
Mac Creech
Richard Creed
Chiles Cridlin
Edward Curry
Bill De La Garza
Dick Dean
Judge Trey Dibrell
Tommy Drake
Rich Eastman
Dick (Doc) Ely
Frank Fimmano
Ernest Fielder
Joseph Fiorillo
John Formica
Harvey Friedman
Chris Glowacki
Michael Gilmartin
Jerry Gomber

Fred Haas
Thomas Jacob
Charlie Johnson
Josh Johnson
Walter Kaprielian
John Kelly, Sr.
Michael Kennedy
Dave Kosh
Bob Lico
Larry McClenaghan
John McDonnell
Mitch Mills
Michael Moran
Michael Olstein
Chris Pague
Joseph Pica
David Recca
Randall Rosenthal
Vic Roy
Rawleigh Simmons
Tom Ward
Chris Wilson
Harry Woods
Your generosity and willingness to help support Bertram31.com is greatly appreciated!

AND.... A Very Very Special Thank You to Randall Rosenthal for the truly awesome Montauk Chart. Yup, guys, you guessed it: Randall carved it from a single piece of wood and then hand illustrated it true to the last detail. Totally incredible!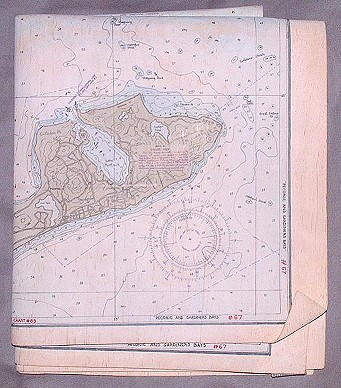 Larger View (155k)
---
As always...

Best regards,





Capt Patrick McCrary
bertram31@bertram31.com
3640 Investment Ln. #15
West Palm Beach, FL 33404
561.848.3366