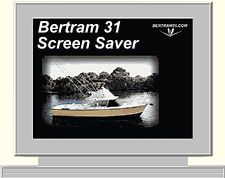 There is now only one file to choose from: BERTSCR.EXE.

BERTSCR.EXE will install the screen saver to your win95,98,NT, or Win2000 machine.

There is no version of the Bertram 31 screen saver for Macintosh... Sorry!

The file size for the Bertscr.exe is 1.8MB. Download time will depend on your modem speed and whatever other Internet tasks you are running. At a 28k modem speed, the download time will be approximately 14 minutes, 56k modems should have about 6 minutes download time.


---
This software is offered solely as shareware and without warrantee, express or implied. By downloading BERTSCR.EXE or bertscr.zip you are accepting all responsibilities and thereby hold harmless Capt. Patrick McCrary, bertram31.com or any other entity of USAMARINE Web Group.
---


Before proceeding to the download request form, please note the following:

Up until recently, access to the Screen Saver was restricted and only those who had pre-paid a minimal $15.00 to help support Bertram31.com were allowed access...

As of 01/25/02 I am returning it to the open access format. While this is a result of the gracious donations of late and the signing of some new corporate sponsorship, it would still be most appreciated if those of you downloading the screen saver would send that small $15.00 donation in. Believe it not, evry little bit helps, and Bertram31.com is one of the best online assets on the net. Help me keep it that way!

When prompted, select to download to your hard disk. After the download is complete, go to the file and double click to begin installation.




Proceed to Download Area









|| FRAMES ON | FRAMES OFF ||

NEW! - Book Store - NEW!



|| Purpose || Features || "Fortuna/Ishgair" || Links || Images ||
|| Guest Log || Bulletin Boards || Articles || Listings ||
|| Screen Saver || Mailing Address ||