Bertram31.com
Sleeving Through Bolt Mounts
and other hardware mounting in composite materials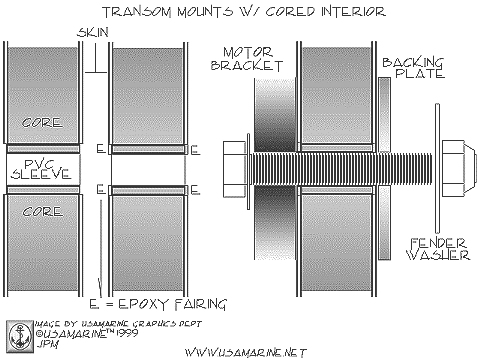 This tip came about as the result of a discussion of mounting an outboard engine to a plywood cored transom, but has application to all through bolting where a core of any material is involved.

By over drilling the mounting holes to accept the appropriate size PVC pipe, and epoxying sections in, you effectively seal off any end grain that will, otherwise, eventually get water seeping into it and possibly cause the core to rot. You could also use copper tubing in place of the PVC.

I prefer to cut the length short enough that the ends of the tube are slightly inside of the front and aft faces, but completely spanning the core material, fairing the remaining space with epoxy.

If screws are to be used to mount an item onto a cored surface, over drill and fill the hole completely with thickened epoxy, (I prefer to use cabosil and milled fiberglass as my thickening materials). After the epoxy cures, re-drill to the proper under size and set the screw. If this is done within a 12 hour period of casting the epoxy, it's shrinkage rate will further grip the screw and seal the threads.



Studs can be secured in much the same fashion. Drill the hole to accept a hex head bolt, stopping short of penetrating the inner face of the composite. Fill about 2/3 with thickened epoxy and insert the bolt. Add more epoxy to fill flus if needed and let it cure. For additional strength, you can under cut the core material beneath the outer skin.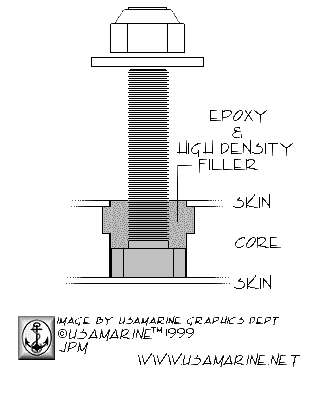 Engine mounts on stringers? Cap stringer with heavy aluminum angle, bedded with polyurethane and secured with fasteners into epoxied holes... Use aluminium or steel powder as the filler for your epoxy. Pre-drill and tap.

Don't forget to prime the holes with straight epoxy first...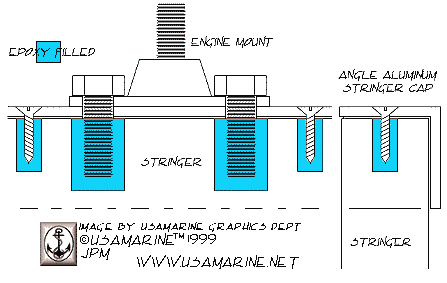 Have fun! Feel free to download and print these drawings, but please don't use it on a website without linking it to Bertram31.com.

Capt Patrick McCrary
Bertram31.com




















site creation and maintenance by:Capt Patrick McCrary

©
834 Scott Dr., LLANO, TX 78643
Telephone 325.248.0809
Web site questions or comments to: bertram31@bertram31.com