Bertram31.com




Quick and Inexpensive Heat Box
for curing small parts





Whether painting, working with epoxies or other resins, there's often a need to hasten the cure on small parts. With most curing materials, humidity and temperature can play a big role in how fast the cure rate is. This is especially true of epoxy since you cannot kick the resin faster by adding more catalyst as you would for polyester resin.

Here's an inexpensive way to put the push on smaller items. Using a large heavy cardboard box, such one that a computer or piece of office furniture was packed in you can make a nice heat chamber powered by a 250 watt heat lamp. I have one that I've been using for a couple of years now and get excellent results from it.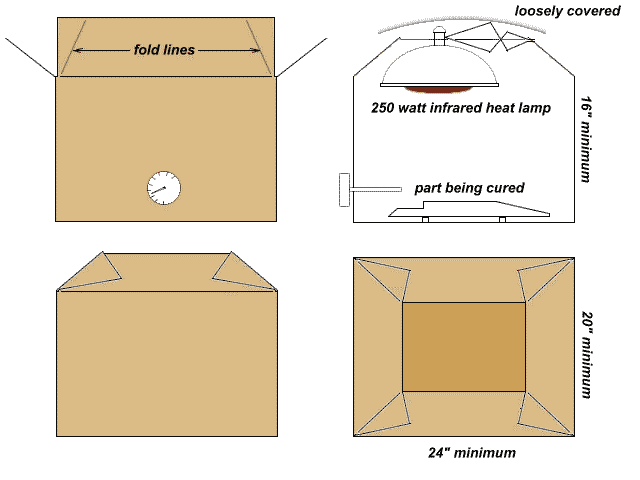 By folding angles to the edges of the flaps a cone shaped opening is developed. I use a small spring clamp at each of the four corners and a 250 watt heat lamp in a spring clip reflector. Cost of all was probably under $10.00 but has saved me an untold number of hours by cutting the cure rate by as much as 75%.

I use a piece of carpet to loosely cover the top. The spring clamps stick up a couple if inches and allow limited ventilation and visual inspection space. I've left the light on for as long as 5 hours and the constant temperature is maintained at 150° F., which is ideal for curing epoxy, primers, polyester, and polyurethane paints. The addition of an inexpensive roasting thermometer will allow you to monitor the heat.



See also: Post Curing



Have fun! Feel free to download and print this article, but please don't use it on a website without linking it to Bertram31.com.

Capt Patrick McCrary
Bertram31.com















site creation and maintenance by:Capt Patrick McCrary

©
834 Scott Dr., LLANO, TX 78643
Telephone 325.248.0809
Web site questions or comments to: bertram31@bertram31.com