Bertram31.com




Through Hole Plug / Repair



Occasionally, there will be the need to plug a through hole in your hull. Either to move the fitting to a more convenient place or to be rid of an unnecessary fitting.

For a single skin hull, (one that is not cored), grind a circular dish shaped area into both sides of the hull. The standard rule of thumb is to make the diameter 12 times that of the thickness that is being patched. Since you will be working from both sides, the measurement will be taken from 1/2 the thickness of the hull. ie: Hull thickness equals 0.5" multiplied by .5, multiplied by 12 equals a diameter of 3 inches.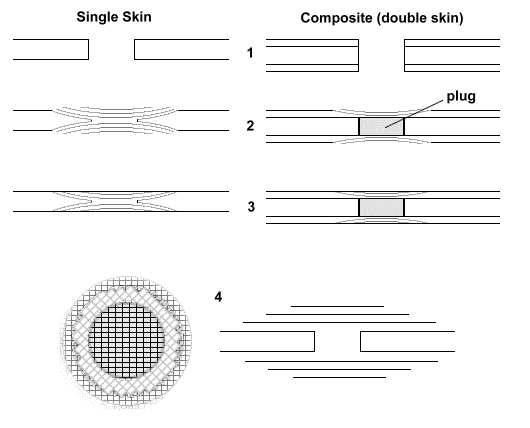 An 8 ounce fiberglass cloth with a mat backing is a good choice for the patch. Either bi-axle 1708 or unidirectional 1808 is what I use, but using just chopped strand mat is also acceptable for this type of repair.

Cut several circles of the fiberglass, starting with one that will cover the dished out area completely. Cut progressively smaller circles of material until you have enough pieces to equal 1/2 the thickness of the hull.

Starting from the inside of the hull, layup the largest circle first and continue to the smallest. Allow this side of the patch to harden before moving to the outside of the hull.

From the outside, freshen up the grind out and proceed as you did on the inside. After both sides have cured fully, you can sand down the excess, dropping very slightly below the finished surface, and fair out the patch. On the outside you may want to sand down a little further and add a final layer of 1 1/2 ounce chopped strand mat so the the weave of the fabric doesn't print through later. This would really be necessary only for above the water line patches.

Cored hulls would be treated in a similar fashion as a solid hull, except that the core should be matched with, (if possible), the same type of material as used for the rest of the core. Glue this core plug in first, allow to harden, and proceed as above. The 12:1 grind out ratio should be changed to a 24:1 ratio, and the measurement is taken from the fiberglass skin thickness, (not the total hull thickness).

The patch should be made using a layup resin epoxy for maximum bond strength. Polyester resin is not a good adhesive and delamination of the patch is a distinct possibility.

Have fun! Feel free to download and print this page, but please don't use it on a website without linking it to Bertram31.com.

Capt Patrick McCrary
Bertram31.com















site creation and maintenance by:Capt Patrick McCrary

©
834 Scott Dr., LLANO, TX 78643
Telephone 325.248.0809
Web site questions or comments to: bertram31@bertram31.com