Bertram31.com
Building a Work Float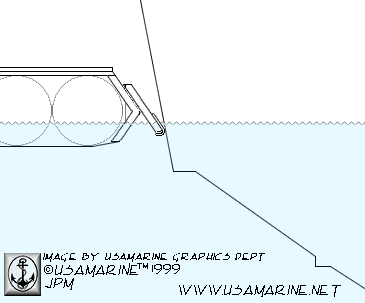 Work Floats can be worth their weight in gold. Whether polishing or doing simple repairs on the hull of a boat, the availability of a simple well designed work float can save hundreds of haulout dollars. Annual hull maintenance that does not require the boat to be "up on the hard" can be done at the dock, saving thousands over a few years period.

If you are berthed at a marina, work floats are possibly available to the slip holder, but if your boat is behind the house or on a private dock, chances are that you're stuck with borrowing a float from a neighbor, or being faced with a $200.00 plus haulout just to polish the hull. Not to mention the yard storage, inflated supply costs imposed by most yards that require you to purchase all materials and supplies used during your stay from them. Time and expense getting the boat to the yard and back increase the cost still more.

Building your own work float is easy and relatively inexpensive. There are some design features that should be considered that will make your work float better than the average. The principle feature, that's overlooked by perhaps 90% of those who built a work float, is the contact area of the float with the boat.

If the sides are built to be perpendicular with the water the free board of the float is going to be higher than the actual water line of the boat. The area of the hull between the top of the float and the water becomes in accessible, and the float rides against the hull, possibly marring the finish. By flaring the base of the float this is adverted.

Just flaring the base though can also lead to problems when, after the float has been in the water for some time, barnacle and other hard marine growth get attached to the float. You certainly don't want oyster shells coming in contact with your boat.

By adding an adjustable fender to at least one side of the work float, you have a nice clean, soft contact area at or below the water line. Soft is provided by the addition of a strip of carpeting along the length of the fender. By making the fender adjustable the actual contact zone can be adjusted to suit the loading of the float. When the float is not being used, the fenders are adjusted to their highest point, bringing them out of the water where that marine growth can't foul the contact point.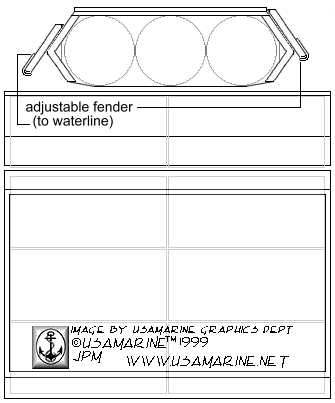 The design of this particular float incorporates 3/4" standard exterior grade plywood, pressure treated 2X stock , and 6 surplus polyethylene chemical drums.
The drums are usually available at place such as janitorial supply houses that repackage products into their own smaller containers. In our locality, one such firm will supply us with 55 gallon poly drums at a cost of around $15.00 per drum.
With hardware, polyethylene straps to chinch in the bottom, the 6 drums, lumber, a couple of cheap cleats, and a couple of quarts of epoxy to seal out the plywood, the whole project should cost around $200. About the cost of a single haulout, but with the possibility of a ten to fifteen year life span. With periodic maintenance to the float, that comes to around an annual expense of, perhaps, $20.00? Maybe less!

The drawings here are meant only to get your gears rolling. No attempt to scale was made, nor is any particular construction technique offered. Heck, if you guys can build boats, you don't need my input on how to construct a work float!

Have fun! Feel free to download and print this page, but please don't use it on a website without linking it to Bertram31.com.

Capt Patrick McCrary
Bertram31.com















site creation and maintenance by:Capt Patrick McCrary

©
834 Scott Dr., LLANO, TX 78643
Telephone 325.248.0809
Web site questions or comments to: bertram31@bertram31.com