Teak Console Bubble (Page 3)





After the final coat of epoxy has cured, the first step is set up the console for the spray booth. But before any scuffing with the Scotch Brite pad is done, the entire outer surface is carefully washed with soap and water to remove any trace of amine blush left by the epoxy hardener.

Amine blush will act as a release agent. Sanding or scuffing alone does not remove the blush, only moves it around. The amine is water soluble so that's the only way to be sure it's removed...

After washing, the surface is rinsed well, towel dried, dried further with compressed air, and given a wipe down of denatured alcohol. At least an hour should pass before applying the varnish.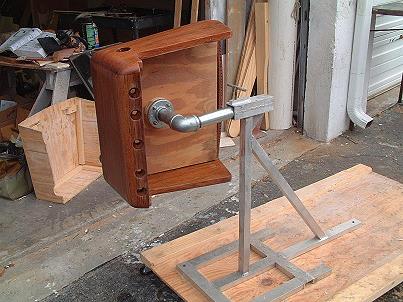 Console attached to my adjustable jig stand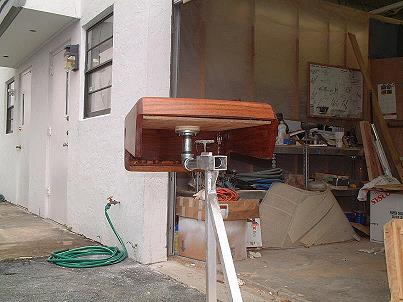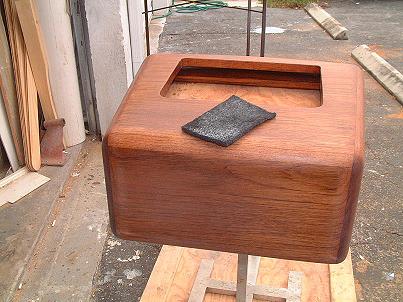 Completely scuffed with course refinishing pad.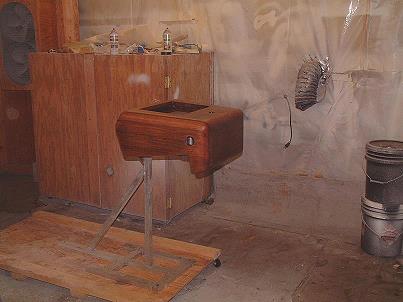 Spray booth misted down with water to control dust.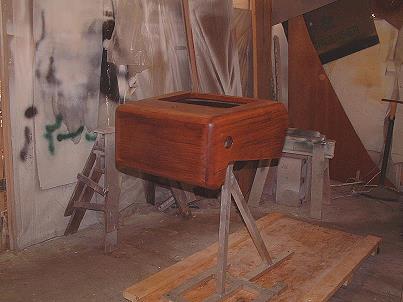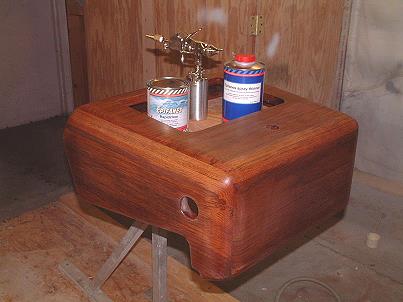 Dedicated jamb gun for varnish spray.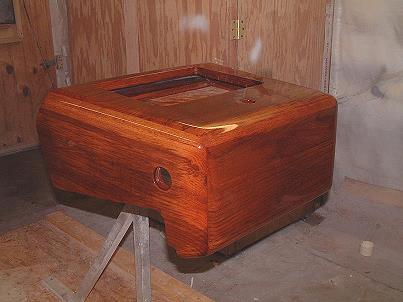 1st of 6 applications of Epifanes RapidClear.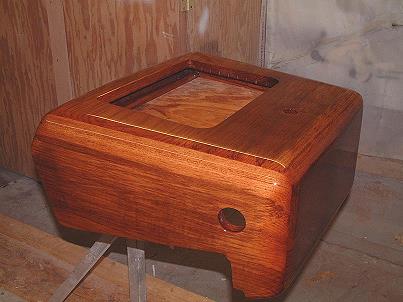 Applications will be spaced 5 - 6 hrs apart.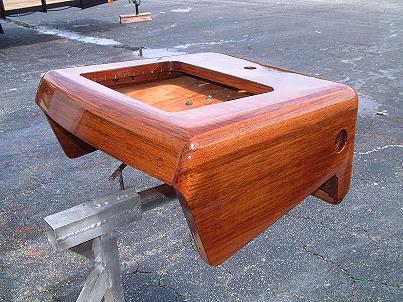 4 hrs into the 6 hr cure & letting it see sun light...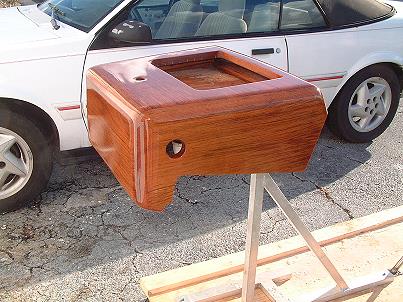 13 spray coats complete. (Large Image 275k)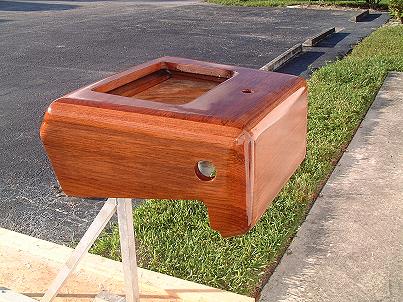 (Large Image 275k)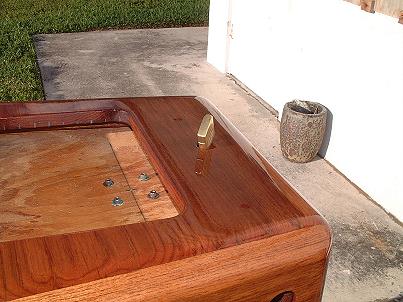 (Large Image 275k)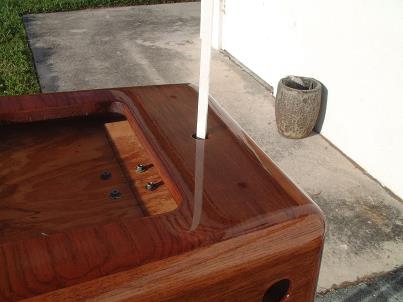 (Large Image 275k)



The first 13 coats have been done with Epifanes RapidClear that allows for as many as 3 coats per day to be made without sanding between coats, (See Spray Varnish Techniques for clarification of my math). After the initial build up stage of 6 coats, the console will be re-sanded with 360 grit wet, assuring that all surfaces are true and fair.

At this juncture, I'll let the varnish rest & continue to cure for the next three days before the intermediate sanding with 220 grit wet, then switch to Epifanes WoodFinish Gloss, shooting another 21 coats.

Those coats will go on 7 per day. The final sanding with 360 grit wet will occur after the 21st coat's thoroughly cured, then two light, but wet finish coats 5 minutes apart. This will yield a total of 26 coats with very little varnish sanded away throughout the process. Allowing for sanding & drying shrinkage, the final result should give me a cured thickness of of about 10 mils, (0.010").

Still hope to be finished and ready for installation by 10/11...



-- Back to Page 1 --



More to come later....
site creation and maintenance by:Capt Patrick McCrary

©
834 Scott Dr. LLANO, TX 78643 Telephone 325.248.0809
Web site questions or comments to: bertram31@bertram31.com