Bertram 31 Rendezvous
Ft. Lauderdale International Boat Show
10/26/00 - 10/29/00
High lights:
Caberera's Classic 31...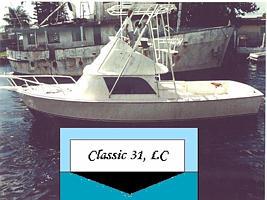 Ric and I drove over on the Wednesday prior to the show to visit with Ray Cabrera and John Alva(sp) at Classic 31. As many of you know, Ray and his father have been specializing in the Bertram 31 for most of their adult life. Before starting their own companies, (Cabrera's Custom and Classic 31), they both worked at the Glass Tech Yard. Glass Tech was a direct spin off of many of the guys that worked for Richard Bertram building the B31. Glass Tech was born when, in 1985, production of the B31 ended.

Ray's dad, (Cabrera's Custom in Miami), produces a wide line of custom parts and kits for the B31. Ray, a little over a year ago, has set up shop out west of Palm Beach, FL in Loxahatchee and is moving more in the direction of becoming a boat builder, but very much involved with major design and customization of the B31. Ray and John are a great couple of guys with a vision of the future well in mind.

John's Sportfish model is undergoing many interesting and beneficial modifications. One of the most valuable changes will be on the flybridge, creating more space without appreciably changing the appearance. The fly bridge was removed, widened by about a foot and moved about 6" further forward. Another interesting design change takes place on the fore deck, where they changed the flat, (in some cases almost concave), nature of the stock B31 to have a slight crown. Again a change that doesn't affect the classic lines, but adds a touch of refinement and functionality to the original.

Perhaps one of the best ideas they've developed centers around the front windshield. Rather than the old aluminum framing, they've created a fiberglass frame that is really beautiful. The glass will be mounted from the outside in well thought out pockets making installation both very water tight and easy.

In all John's boat, when finished, will be a great example of classic design and modern technology designed and melded to create one spectacular B31 SF. They are planning to debut John's boat at the Palm Beach Boat Show next spring.

Thanks Ray and John for allowing Ric and I to get the cook's tour and glimpse your future!
The "Flop House"...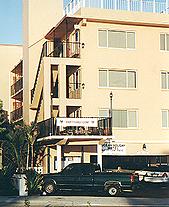 The Ocean Holiday Motel is a four story building sitting right on the beach front and approximately a mile north of the main entrance to the boat show. It's run by a Polish couple and one other lady and is as clean and comfortable as motels charging as much as three times the price, without the view and convenience. Parking is adequate, but a bit cramped; certainly a small concession since all of the guys, (except myself), flew in, and only Ric rented a vehicle.

Uncle Vic was awarded the "Presidential Suite", a 4th floor double room of about 300 sq. ft with an ocean view. Vic's room also got designated as the official hang out and hospitality suite for the B31 gang.

We are all in agreement the the Ocean Holiday Motel is now the "Official Bertram 31 Flop House" for future Lauderdale boat shows... Ric was able to get us all accommodated there this year. As you can guess, accommodations, especially convenient to the boat show are snapped up early and prices can soar to to the 3 digit per night range. At $45 - $65 a night for a room at the Ocean Holiday, it can be less expensive to get a room that it can be to park a car at one of the parking lots, which were mostly charging $50 for the day.

If you're thinking of making next year's show, get your reservation in early. I think there are only around 20 rooms altogether and we had 1/2 of them nailed down this year.

Ocean Holiday Motel Resort
205 North Atlantic Blvd.
Ft Lauderdale, FL 33304
(954) 761-9933
Contact: Elizabeth
Only one B31 at the show...
It was a bit of a let down to only find one Bertram 31 in the whole of the show and that one was stuffed in with the Mega Yacht section on the north end past the Las Olas bridge. It was set up more for island cruising with a Pipe Welders Aluminum and green canvas sun shade the extended, (fixed), to just forward of the transom. It had a pair of the 504 diesels and sported a new paint job, but was generally not a very exciting boat.

Of course we all descended upon it and proceeded to pick it apart and compare it with how we'd have done this or that...
"Sea Horse" Cruise...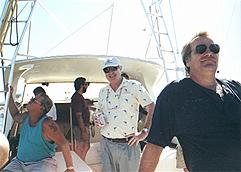 Lee Irvin and a couple of his buddies were kind enough to bring his Bahia Mar, (Sea Horse), up from Coconut Grove and give us a ride around the waterway. Thanks Lee!

One of the guys who came up with Lee was Tommy Lykes who also owns a B31, the "Saltlick".
The "Savanna"...
Mega Yachts and many other high falutin' trappings of the rich and famous don't do much to light my fire. But one of Tommy Drake's real estate customers had his newly commissioned 105' (brand) yacht, the "Savanna" at the show. Tommy afforded us all touring passes aboard and I must confess that the "Savanna" was one of the most impressive Mega yachts I seen to date. Her lines are gorgeous, craftsmanship and attention to detail was near flawless, and the interior was a true work of art. The "Savanna" was built in Savanna, GA, many of interior materials were imported from Italy, and the mechanical spaces and ships systems were awesome, right down to the faired and Awlgripped bilge spaces.

You can do these sort of nuances with $11M... Oh, by the way, she can be chartered for a paltry $50K or so per week. Cocktail Cruise anyone?? Thanks Tommy! It really was a show highlight for us.
Ric's Engines and gears...
Ric was able to weld up a final deal on his Yanmar engines with Twin Disc gears at the show. The interesting discovery that was made concerns a union between Yanmar and ZF Hurth.

Yanmar has entered an affiliation with Hurth and is now a stocking dealer for the ZF transmission and will be pushing all customers to use the ZF gear box rather than another brand. This means that if you want to use the Twin Disc gear box, you may be hearing some strange stories from your Yanmar dealer; like the TD transmission has problems or that it costs much more than the ZF. The real story is Yanmar makes a better profit on the ZF.

One of the reasons for possibly preferring the Twin Disc gears over the ZF gears, is that the starboard gear pressure plate for the ZF/Yanmar hookup has been the cause of low RPM noise. Somewhere around 400 - 500 hours the starboard gear starts sounding like a garbage disposal. Theoretical ZF has corrected this problem by using a different material, but this has been only within the past few months. Twin Disc solved this problem over 20 years ago...

There's also the possibility that you can get a better price on the ZF gears over the Twin Disc since Yanmar has more margin and less work to do by grabbing a set ZFs off the shelf rather than having to order them in from TD. The Twin Disc should not retail for more than the ZF and is just as available.
Mike's rocket launcher...




Mike was in the market for a Murray brothers teak Rocket Launcher and was heading for the Murray Bros. booth... I introduced him to Frank Murray, (one of the "real" Murray Brothers), at the Murray Products booth and a very good deal was quickly struck.

For those of you who are Murray Brothers product fans and anticipate ordering an item such as a fighting chair, rocket launcher, or the like, be aware that you can order directly from Frank Murray at "Murray Products". This goes for replacement parts and a wide assortment of other items that are sold though "Murray Brothers".

These are not the same companies! Frank and Ed sold Murray Brothers almost 10 years ago. Frank still owns and operates the factory and sells to "Murray Brothers". The difference in the price can be significant between the two...



"Smart Rails"...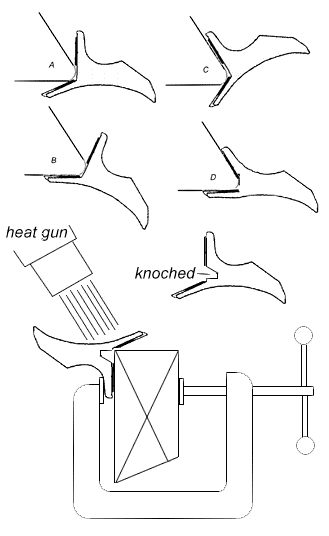 Several of us were able to find The Smart Rail booth and talked for awhile with Christopher Hodges, one of the company owners. Of the two models that he carries, one will fit the B31, (and other Bertram models), with very little modification of the chine. As I see it, there would need to be a bit of grinding on the chine to bring the profile into better compatibility with the PVC Smart Rail shape. The system uses both a pair of high strength adhesive strips and a bead of PLEXUS methacrylate adhesive for the bond.

I have no doubt that the final application, done correctly and according to directions, will result in a permanent installation. PLEXUS is an incredible Methacrylate Structural Adhesive that actually dissolves into the surface of both the PVC and the fiberglass to create a semi-rigid cross linked bond. There would also have to be some minor modification to the lower bonding lip of the Smart Rail where the B31 lifting strakes sweep up to meet the chine.

Christopher says that the Smart Rail system has been applied to several B31s and I will be trying to get him to send me contact info so that we can hear any comments and testimony from actual B31 owners... I'll keep you posted!



Diversions...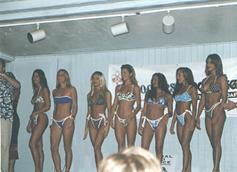 Wouldn't be a south Florida Boat Show without a bunch of young lovelies in bikinis.

Jup... That's the back of Dug's head. I had him ranged out of the shot, but just as I tripped the shutter he was trying to crawl up on the stage!



Next year...
In summary, everyone of the B31 crowd had a great time meeting each other and swapping ideas and sea stories and everyone is already looking forward to next year's show and an even bigger get together. Remember, if you think you'll be down next year, get your reservations in soon; either directly with Elizabeth at Ocean Holiday Motel, or through Ric.


The B31 Gang and Guests:
( -- At the Motel -- )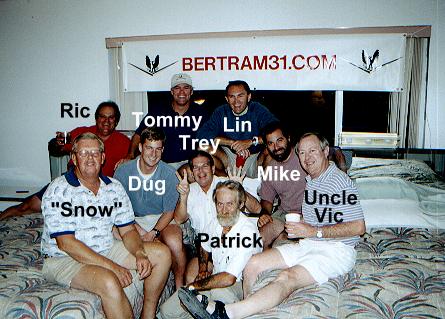 Vic Roy Baton Rouge, LA "Reel Joy"

Charles "Snow" Foster Baton Rouge, LA
Judge Trey Dibrell Galveston, TX (25' Bertram SF)

Ric Soucy , MA "Little Eva"

Mike Ohlstein Long Island, NY "Preditor"



Tim Kisieleski "Kalen" 40' Classic Wooden SF

Dug Stowe Cambridge, MA "Alchemy"

Tommy Drake Ocracoke, NC "Island Girl"



Carl

Capt Patrick McCrary West Palm Beach, FL
( -- At the show, but not staying at the Motel -- )
Lin Spears - Riviera Beach, FL "Rapscallion"

Lee Irvin - Coconut Grove, FL "Sea Horse"

Tommy Lykes - Miami, FL "Salt Lick"

Jamie Mac Gregor - Palm Beach Gardens, FL "Double Mac"

Jeff Mullis - Savanna, GA "Cold Duck"

Jim Clifton - Savanna, GA "Cold Duck"

Harley Everett - St Petersburg, FL "Reel Stripper"




More Images



Thanks Guys! This was the most fun I've had at a boat show since '92 when I had the privilege of meeting Sonny Hines of Hines-Farley and sea trialing his new 47' Flybridge model.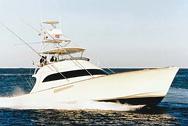 ---






As always...

Best regards,





Capt Patrick McCrary
3640 Investment Ln. Unit 15
West Palm Beach, FL 33404
561.848.3366









|| FRAMES ON | FRAMES OFF ||



|| Purpose || Features || News ||
|| Projects || Links || Images ||
|| Guest Log || Bulletin Boards || Articles ||
|| Listings || Screen Saver || Mailing Address ||