An association of Bertram 31 owners feels it turned a corner this summer with its third annual rendezvous for this sportfishing classic on Block Island, R.l.

The two previous gatherings had attracted only two or three boats, according to organizer Dug Stowe. This summer, 21 Bertrams were docked at Champlinís Marina in Great Salt Pond. "There was a point when two or three were arriving at a time," Stowe says. "It was an amazing turnout." Though the Aug. 3 and 4 event was billed as a get-together for Bertram 31 owners, the group wasnít about to turn away anyone from the Bertram family.

Alongside 17 Bertram 31s were two Bertram 25s, one 28 and a 33. The owner of a Bertram 36 happened to be on the island with his family. Unaware of the rendezvous, he stopped by for a social visit and promised to attend next yearís event, Stowe says.

Socializing was the key to the gathering, according to the owners. "It was nothing but one laugh after another," says Dick Dean, who drove his 31, Kylemore, from Bay Shore, N.Y., on Long Islandís South Shore.

Unlike more established, company driven rendezvous, there was no roster of seminars to attend at the Bertram 31 event. "It was everybody climbing over everybody elseís boat, going Ďoohí and Ďahh,í " Dean says.

"Itís like going to a boat show with only boats you really want to see," says Stowe, who keeps his 1969 Bertram 31, Alchemy, in nearby Mystic, Con.

The oldest boat in attendance was the 1963 31-footer, Capy, owned by Paul and Carol Gozewski. They also traveled among the farthest from their northern Massachusetts berth on the Merrimack River. Tom Wardís 31-footer, Rumrunner, made the run from Lavallette, NJ., and went home with the Greatest Distance prize.

Other boats came from New York and Connecticut. Stowe credits the sharp upswing in rendezvous participation to the Web site launched by Patrick McCary three years ago, www.bertram31.com. The comprehensive site includes contacts for Bertram events, magazine articles written about Bertrams, boats for sale, building tips, a spare parts listing, photos, and a history of the Bertram 31 and the effect itís had on powerboating.

Designed by Ray Hunt and built by Richard Bertram, the 31 was in production for 25 years, beginning with its debut at the 1961 New York National Boat Show. The boat made history as the first to use a deep-vee hull.

The 31 is known for its wet ride in a head sea, but also for its superb sea-keeping characteristics. "The boat goes through big water like nothing Iíve ever been on," Stowe says. Like other owners, Stowe speaks of the "mystique" that follows the Bertram 31. He bought his boat about five years ago and completely gutted it during a four-year restoration. The end result, he says, was worth it.

"Itís a nice feeling when you pull up to a dock in a 31-footer and someone on a 60-footer turns and says, ĎNice boat.í" Regular production ended in 1983, but 23 "Silver Anniversary" models were built in 1986, with oak interiors and custom hull striping. Bertram Yachts continues to operate under the ownership of the Ferretti Group of Italy.

Though the company didnít sponsor the rendezvous, Stowe says Bertram bent over backwards to help the rendezvous organizers. "The Bertram 31 is what built Bertram, and they never lost sight of that," he says.

Emboldened by this yearís success, organizers already are planning a Bertram 31 rendezvous for 2003 ó possibly on Block Island again and most likely in early August. Stowe says owners should check the Bertram 31 Web site for details and contact information. "The reality is there are a lot of Bertrams out there," he says. "I think [the rendezvous] is only going to get bigger. "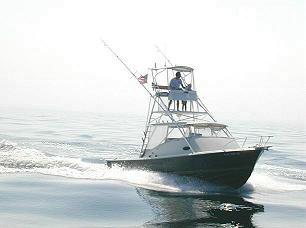 Bounty Hunter heads home to Long Island after the rendezvous.




Back To Entry Page