Dedicated to the Bertram Thirty-Ones Around the World...

Enter the version of choice: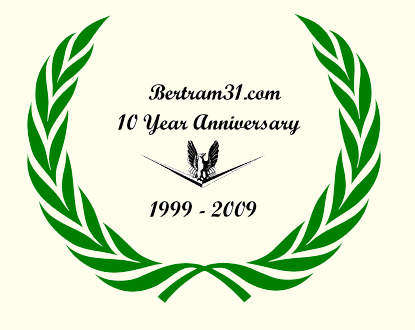 (First Internet viewing Nov 25, 1999)
Updated:

©



Few, if any, other boats have had such a profound influence on the design of power boats as has the Bertram 31. The first boat design to use a Deep-V hull, it is arguably the most famous modern boat design ever built, the 31 Bertram has achieved a near cult status, infecting boaters around the world. Designed by Ray Hunt and built by Richard Bertram, the 31 was in production for 25 years. Many are still on the water and in use throughout the world.

"The 31 has become a benchmark both in terms of sea keeping ability and rugged fiberglass construction. It has had a reputation from the start as a boat that will take you out and bring you back." (Soundings, May 1994).

"They went to rogues and royalty, grizzled marlin captains and fair-weather sailors. Many of them are still tearing across the whitecaps..." for customs and border patrol work, search and rescue missions, and, of course, to ferry anglers to offshore fishing grounds. The Bertram 31 launched Bertram Yacht, Inc. when it was introduced at the 1961 New York National Boat Show, essentially as a day boat for Florida sport fishermen. More than three decades later, it is a collectible classic, sought-after, even coveted. According to Soundings, aficionados refer to it as "Bertram Art." The Bertram 31 has aged well, a tribute to its impeccable blood lines and robust construction."

The Famous Bertram Eagle Logo is the registered Trade Mark of Bertram Yachts, Inc. and the Ferretti Group of Italy. Bertram31.com is in no way affiliated with or makes use of the Bertram Logo for commercial purposes. Neither do we represent or speak for Bertram Yachts, Inc., but as Owners and Fans of Bertram 31s we are proud to display the Bertram Logo! Even Norberto Ferretti, owner of Bertram Yachts, Inc. is a Proud Owner of a Bertram 31...


What's being said about Bertram31.com? Here's a few comments from our guest log...
"This is the greatest. Finally somewhere to go and find the answers on how to complete my partially restored project boat. I was just about to run out of energy and give it up but after seeing some of the finished products , I'm going to put on my work clothes and get back out there." - Peter - Houston, Texas

"This site is Fantastic! Excellent source for info & shared experiences. Keep up the Good Work!" - Phil - Babylon, NY

"I'm glad I found this website, I just bought a 31 in august and I love it. I will be visiting this website often thank you..." - Nick - New Bern, N.C.

"This is terrific! I am nearing completion of my 31, a 1969 which has consumed every weekend for the last two years! I look forward to sharing, learning and boating with you all! I would love to be a resource to anyone who may need help, and look forward to a place to ask the quirky questions!" - Dug - Cambridge, MA

"Glad to be part of the 31 Internet club. I boat on the lower Chesapeake Bay and would like to here from anyone in my area. I own a 1970 Sportfish open running out of the York river. Great site keep up the good work." - Joe - Yorktown, VA

"Its great to see a site now for Bertram 31's Just bought a "73" in FT Lauderdale and Had it hauled up here...Can't wait to see everyones ideas on how to jazz it up... Check in with ya' daily." - David - New Bedford, MA

"I discovered this site today and am impressed. Great effort. Thanks again for a great web site !" - Chris - Cape Town, South Africa

"Finally a site for the 31. I will be here daily. I own one , 1974 FB. in la Guaira Venezuela and am also a fan of the 31. Great!" - Carlos - la Guaira Venezuela



More from our Guest Log...
| | | |
| --- | --- | --- |
| | | |